Woody Muram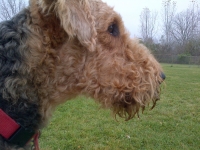 Thursday, April 15, 2010

to

Friday, September 17, 2021
We fell in love with Woody as soon as we saw his picture on the ATRA post. At 8 months he was a very large puppy, full of energy and mischief. That was the beginning of an adventure we would never want to miss. He kept us on our toes. He was almost too smart. He opened front doors, destroyed patio furniture, and smiled. "Mom I am a bit mischievous but so sorry". He talked to us with his expressions, his eyes and body language. Our children, grandchildren, neighbors, friends all loved him. He was beautiful and unforgettable.
When Woody was 6 years old, we rescued a female Airedale, LuLu, and Woody had a new purpose. She had a history of abuse and abandonment, and could not get near any other dog. He was going to heal her and by gosh he did. He morphed into a gentle giant, calm and soothing. He became her rock, her therapy dog, her friend, her playmate, her love.
After 5 years of happiness, Woody and Lulu crossed the rainbow bridge 10 days apart. No doubt they are on the other side of the bridge doing something special for the new arrivals.
We loved Woody so much, our hearts are breaking. As it turned out, he was loved by everyone who knew him. We were surprised by the many sympathy cards we received from family, friends and neighbors. Roses and plants arrived. Neighbors stopped their cars to ask about Woody. We always knew that Woody was unique and special, but so did everyone else that knew him.