Train Me or Train Me Not: That is the Question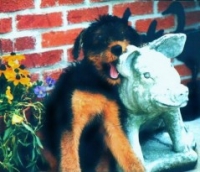 Written by Penny Stewart
Let's take a quick look at it from the dogs point of view.  I've just moved into this neat house.  The humans are friendly and try to be kind, but some of this stuff is really confusing.  I hear "down", next it is "get down".  I'm trying my best to please them but I don't know what those words mean.  Louder does not make it any easier to understand.  Then they get angry and I don't know what they want me to do.
Adopting a dog is like owning a used car, you don't know how it's been treated before you got it.  You need some time together to get used to one another.  Schooling puts you in the best position to see how your new dog reacts to dogs, people and a whole new array of sights, sounds and situations.  You get to work on the basics with positive reinforcement.
Childred had beaten the first dog we adopted 25 years ago.  He was 3 months old and 25 pounds.  He was shy to the point I thought he could bite out of fear.  When children wanted to pet him, all he would do was try to hide behind me, or the closest tree.  Obedience training gave him confidence.  A year later he and my 5-year old niece won the "Best Pet" award in the pet parade.  They walked a mile with dogs, cats, raccoons, ferrets and KIDS.
Our new family member is named Duggan.  He turned two in May.  Although he was not as wild as some of our Airedales have been, we could not call him well trained.  Countersurfing, shoe snatching, gnawing on your arm and the piece de resistance flying out of the car.  We just finished basic training and you can see the improvement.  When he starts to get wild, we put him on a sit, stay.  After a minute or two, he calms down and we take him outside to play a little ball.  He still likes to gnaw and we're not totally finished with the countersurfing, but he will now trade a snatched item for a toy.
When we walk into the training center, you can see it in his eyes...he is ready for fun.  He bounces around like a puppy until class starts, and then he is ready to strut his stuff.  We call him a work in progress.  The journey is more than half the fun, but the finished product will be well worth the time and effort.
Training gives you and your new best friend time to learn together.  You'll find that it sometimes takes more time to train the humans in the class than it takes the dogs.  It gives you both a true sense of accomplishment and some good laughs along the way.