Training and Your New Airedale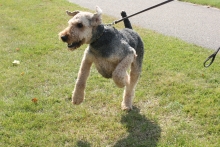 Regardless of how well you think your new rescue dog might be trained when you get him or her, ATRA recommends that you attend at least a basic obedience class with your new friend.  Even if you know how to do obedience training yourself, this will accomplish several things.  The most important thing is that the training sessions both at home and in class will give you special one-on-one time with your new friend and help the two of you form a new bond.  It is especially important if you have a busy household to make time for your new friend that is just for them.
Another important reason for training - especially for Airedales - is that it helps to give them an outlet for some of that terrier energy.  Airedales are high energy dogs and greatly benefit from regular exercise.  Wouldn't it be better if your new friend learned some leash manners so as to be good a citizen when you took him or her for walks?
It is important to use training methods are based on positive motivation and leadership principles. We believe dogs respond faster to this type of approach. Harsh treatment in training is not necessary to obtain your desired results.  Training also establishes you as the leader of your dog pack - even if it is a pack of one.  If you are not sure about training, attending an obedience class will help YOU learn how to train.  If you do know how to train, attending an obedience class will help you teach your dog to ignore all the distractions and focus on you.  Training is also very beneficial for shy dogs.  It gives them confidence and helps bring them out of their shell.  
 
When you look for a class to attend or a trainer to use, look for someone who uses positive reinforcement methods.  Dogs are much happier working when rewarded for doing things well than when punished for doing things wrong.  Below are some links to stories and resources.
Association of Pet Dog Trainers
 - locate a trainer in your area Possitive Training -
Make a Donation to help provide training for our rescue Airedales
Rescue often sees Airedales that benefit from the services of a trainer or obedience classes while in the foster home to help make them adoptable.  To this end, we give them the training that they need.  If you would like to donate towards our training expenses, please follow the links here.
To make a credit card donation, click here.
To make a paypal donation, use AML9848@comcast.net
To to make a donation by check, make your check out to "ATRA" and send it to
    ATRA
    1123 Vesper Road
    Ann Arbor, MI  48103