The Peat Family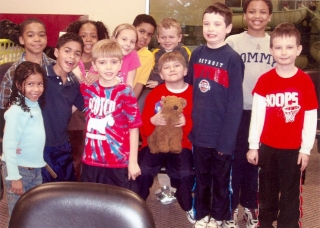 Imagine our surprise when a rather large box arrived containing dog toys, bowls and treats.  What was even more surprising was the fact that a 9-year old boy asked for donations for ATRA Airedales instead of personal gifts for his birthday!  The Airedales will love them.  We had to share the note that was enclosed with the doggie gifts:
"We are the proud owners of a 10 1/2 year old Airedale.  We have two rescue Airedales in the extended family as well.  My oldest son, Spencer, who just turned nine, had a birthday party to celebrate.  He asked that his friends bring items to donate to ATRA instead of personal gifts.  So enclosed are the items the children donated along with a check made out to ATRA.  For some of his friends, this was the first time to be able to go into a pet store and shop.  It was a great experience all around.  I hope you will be able to use these items.  Thank you for all you do for such an AWESOME breed."
Regards, The Peat Family
Included in the photo are:  Adrianna Vega, Alex Ball, Shane Vega, Alexis Ball, Elliot Peat, Emma Barnhart, Donovan Vega, Spencer (w/dale), Brad Horvath, Brendan Brice, Aidan Brice and Miles Perry.  Not pictured - Samantha Burnstein.