Brittany and Zeke -Love Can Build a Bridge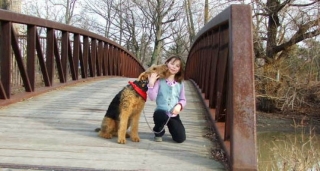 By ELLEN McGEAGH
Brittany Godwaldt was afraid of dogs. The Ontario sixth-grader used to cry when she'd see a dog walk by her living-room window. Her parents hoped meeting a gentle dog would help quell those fears, but when the family decided to adopt an Airedale, Brittany had her doubts: "I was terrified of him," she remembers. For about five minutes. Three years later, Zeke is Brittany's best friend. "Dogs are lovely creatures," she says now, "nothing to be scared of."
Brittany and her mother, Krista, give credit to Zeke, whose loving acceptance of Brittany has changed Brittany's life. Adopted by Krista and John Godwaldt when she was 4 after being their foster child since she was 11 months old, Brittany was born with Fetal Alcohol Syndrome. As a result of her biological mother's alcohol use, she has permanent brain damage, difficulty learning and problems with social interaction. Brittany gets frustrated and sometimes expresses it with anger; "Zeke doesn't care when she's freaking out," her mother says, "he's still there, he still loves her."
"The dog is the best thing in the world for her," Krista says, "They're like twins. They love each other."
That love and acceptance from a rescued Airedale has helped Brittany reach out to the help the Rescue world. When AireCanada began their Pennies for Airedales campaign, Brittany got involved. She created a collection can, hand-decorated with Airedales and raised $53 in pennies and dimes.
Then, Brittany read about Bentley in Aire-Mail and was moved to begin collecting funds for his hip dysplasia surgery. This time, though, the shy 11-year-old was moved by Bentley's plight to bolder action. "I asked my teachers and my principal at my school," she says. The result? Fifty-eight dollars to help a dog she's never met. Next on Britt's agenda? Raising money to help Stella, the Airedale puppy accidentally electrocuted. "She has a real big heart," Krista says of her daughter. So big that when Brittany was given $25 as a Christmas gift, it immediately went into the Bentley collection can.
Brittany has three older brothers and a brother, Caleb, 6, who also has FAS. Krista and John continue to foster children and work with Rescue. In addition to helping 'dales, Brittany loves horses and reading. Zeke has influenced Brittany's ambitions: she hopes to be a veterinarian when she grows up. Asked why she loves Airedales, Brittany replies, "They're cuddly and they're noble."
Zeke, the rescued Airedale, gives Brittany patience, love and acceptance, helps her overcome fears and increase her confidence. Because of him and all she has learned, Brittany reaches out to help other dogs that have touched her heart.