ATRA is proud to  announce an Online auction to support our wonderful Airedales and ask you to help our cause while enjoying  the excitement of bidding on unique  items  to enhance your collection or for gifts. 
The auction will start  April 12, 2023 at 12:00 EST and end April 15, 2023 at 8:00PM EST.  The auction site is  https://www.facebook.com/groups/1712843078997992
Don't have a Facebook ID but want to bid for items on the website?  See below for a link to browse items.  ATRA will assign someone to bid for you.  Here is the link  Bid for me . They will notify you after the event is over if you were the high bidder on any item. Shipping charges will be applied to the amount of your winning bid(s).   You can pay using paypal or a check.
 If you have any questions, please contact Trudy Greco boundertrudy@gmail.com or Barb Oimas atradales@yahoo.com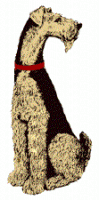 When:
Wednesday, April 12, 2023 - 12:00pm

to

Saturday, April 15, 2023 - 8:00pm