Indoor Off-Leash Venue
FUNDS RAISED SUPPORT COSTS INCURRED BY ATRA RESCUING AIREDALES!!
AVERAGE COST IS $1,200 PER AIREDALE
Advance Paid Registration-postmark by 05/19/2017
$15 per adult or $20 for two adults or $30 per family
Advanced Registration Guarantees:
Entry in the drawing,
a goody bag, a dale-icous lunch
a dog-gone good time!
On-Site Registration
$20 per adult OR two adults for $25 OR $35 per family
Registration form below
LOOKING FOR:
• Auction Items –unique one of a kind items for the home, gift baskets of all kinds, wine baskets, gift cards, electronics, small appliances, furniture etc
• Doggie Goody Bag Donations! • Gift cards • Monetary donations!
For more details email Fran at: francee.ender@aire-rescue.com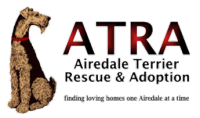 Where:
Ingersoll Seniors Activity Centre -250 Ingersoll St., INGERSOLL, ONTARIO
Contact for Information:
Fran at: francee.ender@aire-rescue.com